In the Bible book of Proverbs, the writer says, "you don't know what a day will bring forth." (27:1) My wife, Debbie, and I had no idea, when we got up on July 15, 2012  that it would be such a heart-rending, sad day in our lives. For that was the day our beloved Rose, a four-year-old Irish Terrier, lost an unexpected encounter with a slow-moving truck. It occurred on a little-traveled, remote, gravel mountain road, where it seemed perfectly safe for her to freely romp with her friend, Fluffy. There was no way we could know that the sweet lassie who had brought us so much joy, would leave us that day. But her story was not all a "bed of roses…"
Having been a dog-lover all my life, we did not want to be without "man's best friend" in our family. So when our aged rescue mixed-breed, Kasper, seemed to be nearing the end of his road, we began our search for his successor. We were intent on finding the perfect "fit" for our family, and embarked on a diligent and comprehensive search of dog breeds, their characteristics and traits; owner testimonials, etc. At first we were thinking along the lines of a Fox Terrier, since we had owned and loved one of those, many years before. So, although we considered many other breeds, we seemed to keep coming back to the Terriers.
One night I was working on something in the living room, while the TV played in the background. It was tuned to Animal Planet, and the Eukanuba dog show was being aired. When I heard the announcer mention the Terrier group, I decided to take a break from my work and watch this section of the program. Ever since we owned our Smooth Fox Terrier, Traveler, I've been partial to this genre of dogs. As the dog show progressed, I enjoyed seeing the usual popular terriers paraded across the screen. But then my attention was drawn to one I had not been familiar with. The announcer introduced Lilly, the Irish Terrier, and I was immediately smitten. The next day I found myself on the internet, learning all I could about Lilly's breed, and really became excited about what I was discovering. I shared my findings with my wife, Debbie, and we began a search to see where we might be able to purchase an Irish. Sadly, there were none to be found in or around Savannah, GA, a city known for its elaborate St. Patrick's parade and accompanying madness each year, priding itself on its Irish heritage. For shame!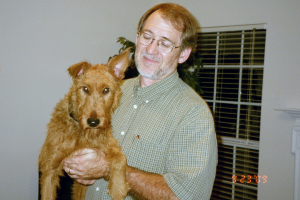 Our search led us to an out of state breeder, and we chose a pup they had already named Rowena. Once in our custody, her name was changed to Rose – "Savannah's Red Irish Rose", to be exact. She was so adorable and sweet, with those triangle ears and piercing brown eyes. It was love at first sight. Now, I mentioned earlier that I had always been a dog owner, so I thought I knew a little something about dogs. I prided myself in the fact that I had personally given obedience training to our previous pets, with good success. Little did I know that I was about to be schooled all over again! Ms. Rose would soon teach me how little I knew about rearing an Irish. I guess, in my subconscious, I had expected her to be a solid red version of a Fox Terrier. Wrong assumption! As she began to grow and feel comfortable in her new surroundings, she began to express her strong Irish will, which did not always mesh with ours. One day, while out walking her, I was asked what kind of dog she was. Without thinking, I quickly replied, "She's an Irish Terrorist."
Sadly, at about the six month mark, we began discussing the possibility of finding another home for Rose. We did love her, but she was proving a little too much for us to handle. I began a search of IT rescue groups, hoping to get connected with a family that might be better able to care for Rose. One person led me to another, and another, until I finally found myself in contact with Marcia Segura. I explained some of our story to her, only to have her tell me, in her usual merry tone, that she was owned by THREE Irish Terriers! Egads! I couldn't imagine such a thing. After talking about our situation, she said she would help me find a suitable family, if that was what we really wanted to do, but suggested that we give it a little longer, and keep in touch. We agreed, and for awhile, it was an on-again, off-again love affair with Rose. However, at one point we actually selected a family, living near Atlanta, who really wanted her. It came right down to the week-end they were to take her, and I couldn't bring myself to do it. Deb and I made a  decision that  if we reneged on this exchange, Rose was going to be ours for good, and we would learn how to live together in harmony. It seems like once we made the firm commitment to keep her, things began to change for the better. But many more conversations would take place with Marcia, as Rose grew to adulthood; and we grew to become understanding and appreciative Irish Terrier owners.
From that point, Rose really began to grow on us, and it was obvious that she had fully claimed us as well. We truly became "family" at last. Though she was still extremely hard-headed, she was also unbelievably intelligent.  I've never been around a dog with such problem-solving abilities. Nor have I seen a dog with such paw-dexterity, often laying on her back and holding her toys in the air, much like a cat would do. If I couldn't stop and throw a toy for her to chase, she would toss it herself, then go after it, and do it again. She amazed and amused us with her constant antics, such as the familiar Irish Terrier spin, her yodeling conversations, her lightning quickness, her keen understanding of words, (some we had to spell in front of her) etc. And she was such a communicator – with her thoughtful eyes, with her body language, and with her unique way of talking – sort of a combination of growling and whining that almost formed understandable words. Although when she "talked" like this, it didn't sound like something to be repeated in Sunday School!
Any unwitting squirrel who dared set foot in our yard would encounter a red, furry streak; and the ground mole population, in and around Chatham County, was always subject to being unearthed without prior notice. And oh how she loved to go fishing. When the bobber went under, the tail went to wagging, as she watched me reel in the catch. Then, inevitably, she would wade in to help land the fish, because I was doing it too slowly for her. When it neared bedtime each night, Rose began "herding" us to the bedroom, because she couldn't/wouldn't go to bed until at least one of us did as well.
With all of her busyness and playfulness, we discovered another side of Rose, we would not have imagined. She loved; absolutely loved serving as a therapy dog at the local nursing home. When Debbie would take her down to visit the patients, Rose would begin whining to get out of the car, as it pulled into the parking lot. Once inside she was the most calm, reserved, caring animal to grace the corridors. She would lay her head on a patient's lap as they petted her. She seemed to know instinctively who needed a gentle nudge, a listening ear, a compassionate look. She had a gift for helping minister to people, and when she left their rooms, the mood was lighter. We were constantly amazed at her bedside manners, when it came to visiting the sick, the infirmed, the handicapped, the elderly. This was a characteristic we were not aware that Irish Terrier's possessed until Rose demonstrated it for us so eloquently.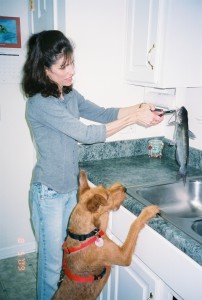 Our girl Rose liked to do whatever we were doing at the time, and she thought it her duty to "help", even when help wasn't needed. If I worked on a plumbing project, she was there, supervising. When I cut the grass, she shadowed me step-for-step, from beginning to end. If I used the shovel to plant something in the yard, she made sure to dig a hole beside me, whether I wanted it there or not. If Debbie was reading a book, Rose was at her feet. If one of us was upset she was there to comfort. One of my hobbies is making custom walking sticks. On several occasions when Debbie and I were out hiking, using our sticks, Rose would pick up one of her own, from the ground, and carry it for the duration of the walk. Whatever we did, she wanted to do as well.  Rose became such an integral part of our lives, that it has been difficult to visualize life without her.
We nearly lost her on at least two other occasions. Not long before she turned one, she managed to swallow a large, jagged stone, which became lodged in her intestines. We were unaware of the problem until it was almost too late. Major surgery ensued, and she finally pulled through, but continued to have problems because of it. (She also continued swallowing rocks, but they eventually came out of one end or the other. Did I mention she was hard-headed?)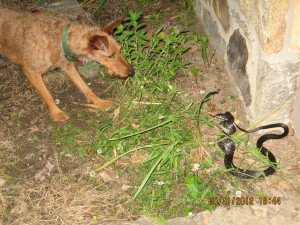 The other time we nearly lost her was last summer. I was preparing to mow the grass in the back yard, when Rose dashed in front of me, almost tripping me, and grabbed something off the ground. It was a Copperhead snake, which I never saw, and was just about to step on. Without hesitation, she grabbed it, and it grabbed her – right on the jaw. They were locked onto each other for a few seconds until Rose shook her head fiercely, and the snake flew off. But the damage had been done. I grabbed Rose before she could grab the snake again, and also managed to pin the snake down with the rake. A trip to the pet-emergency room began an all night vigil, with us wondering if she would pull through or not. It was very "touch and go" until the next day. She did eventually made a full recovery, but never forgot the experience. Woe be to any snake that might have the unfortunate fate of crossing Rose's path, from that day on.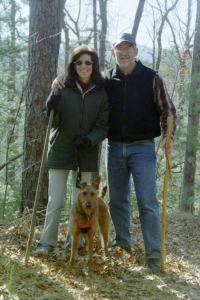 At the beginning of May, of this year, we left Savannah and moved to the mountains of Western North Carolina. Debbie and I have always loved the mountains, but whenever we would take Rose there with us, she would really come alive (as if it were possible for her to be more lively than usual!) She absolutely thrilled to be in the mountains, and it was such a joy to watch her run, full tilt, up and down the hills and valleys – tongue dangling, white teeth smiling, sides heaving, eyes sparkling. She especially loved our hikes through the woods, and was great about walking with us, unleashed, for as far and long as Deb and I could hold out. Recently we discovered wild raspberries growing on our mountain. Rose became our raspberry detector, leading us to the bushes with berries needing to be picked. She just had a way of making things we already loved, even more enjoyable. She knew what is was to live life to the fullest, and watching her, made those around her want to do the same.
On July 15th, we were nowhere near ready to tell our girl "good-bye", but we will carry very special memories of her with us forever. She taught us so much about life and love. And we will always be indebted to Marcia for gently "coaching" us through our "Living with an Irish 101" class, which we nearly failed. Though our time with Rose was much too short, it was full and rewarding. We hope to find ourselves embracing another Irish Terrier one day, but in our minds and hearts, there will never, ever be another Rose.