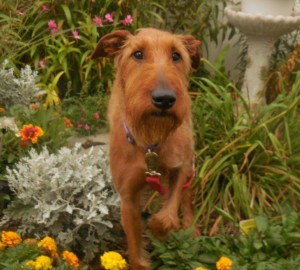 Hogan found himself in an Iowa shelter – and he wasn't thrilled with his situation so he did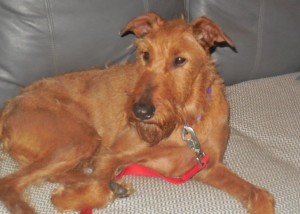 what all Irish would do in that situation – express his displeasure.  When Hogan arrived at WFTRM we soon discovered what an Oscar winning performance he gave the staff  as this  lad is a delight!  He is full of Irish silliness, spins and that wonderful spirit all Red dogs seem to possess.  Hogan loves to talk – he will tell you if he wants to go out or "needs" a treat or if you ask his opinion on some important matter!  He just oozes personality.  Hogan loves to play Fetch and snooze on the sofa.  He gets along well with other dogs and especially loves Skye – the resident Irish Terrier.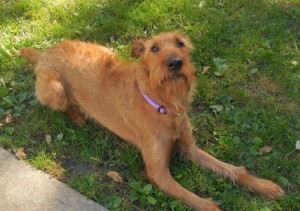 While Hogan's history is a mystery, we have discovered that he is house-trained, crate-trained,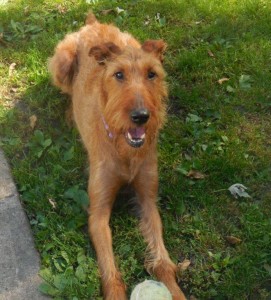 loves car rides and walks.  He will be the perfect companion for the family who wins his heart.   Our lad is neutered, up-to-date on all vaccines, and is about 5 years young.  He can be protective of his food so we will not place him in a home with small children but Hogan would be perfect for a couple with a fenced backyard, time to toss the ball, and the ability to show him lots of love which he will return three-fold.  If you can see Hogan snoozing on your sofa – please complete our adoption application.