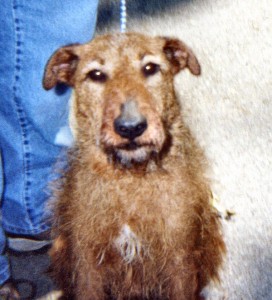 Meet GiGi – she's our  grand dame of ITRN rescue red dogs. GiGi is going on 10 but you'd never know it. Her life story is sad – she was purchased as a puppy and passed from home to home and somewhere along the way GiGi wasn't treated nicely by humans.  GiGi's found herself with a very special Irish Terrier person in the hills of TN. The intent was for GiGi to live her life quietly there. This is unfortunately not going to play out as intended. The IT angel's life is changing and GiGi had to move to MD.   GiGi should not be overlooked because of her age – she has only improved like fine wine.  She still plays like a puppy and does tight spins.  She plays the absolute best game of "keep away".  This girl has SOME moves – GiGi kicks up her Irish heels!
GiGi needs a new home with a patient and loving family to give her the best life – she so very much deserves this. Are you the next angel in GiGi's life?
GiGi waited patiently for years to get a new home to hang her leash in.  Greg and Catherine had lost all their canine companions in the span of a few months and while an elderly dog wasn't a path that the couple wanted to take, GiGi greeted them with the vim and vigor of a 5 yr old.  With a mad game of keep away and butterfly kisses, she stole her way into their heart and now has her own new bed and a toy box to call her own.  Great life Girl!