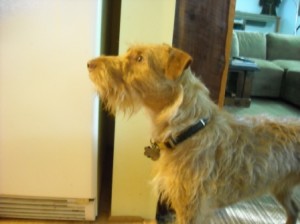 Meet Erin –  she's a young Irish lass who hails from the Aloha State of Hawaii and whose history is a mystery – she may be a MIX but we can attest to her Irish attitude and penchant for mischief .  She was hanging around a shelter there when a military family found her and adopted her.  Erin and her Army mom and dad came back "stateside" – with a new baby and yet another transfer in their future, they decided that Erin would be better served in a more stable environment where she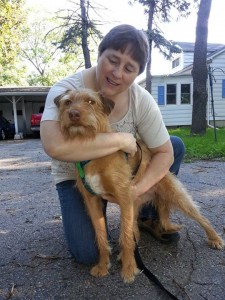 could get lots of attention.  Erin is spayed, up to date on her vaccines, loves people, riding in the car, and playing.  Her foster mom says she's always on the move and can be a bit bossy with other dogs – she is located in WI and we are looking to place her locally if possible.
Erin hit the road to find the perfect home in Virginia.  She said goodbye to her foster mom, Sherry, and hitched a ride with Move the Dog Transport to MD.  The great news is that her new family had been waiting patiently for the right lass to join their home.  Lorenzo and Estrella love Irish and have lots of experience with the breed and with rescue dogs in general.  Erin will be living the good life in the DC suburbs with two canine siblings and a human sister who is a vet!  Great new leash on life for our Erin lass!